Professor Emeritus; Adjunct Professor of Sociology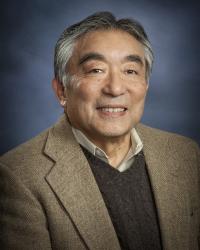 Biography
B.A., University of California, Berkeley, Psychology, 1963
M.A., San Francisco State University, Psychology, 1968
Ph.D., University of California, San Diego, Sociology, 1975
Tetsuden (Tetsu) Kashima, born in Oakland, California and as an infant with his family, the government and military placed nearly 120.000 other Japanese Americans into American concentration camps during World War II. After the war, he grew up in San Diego, and attended the University of California, Berkeley, for his undergraduate degree, and his doctorate in Sociology at the University of California, San Diego. He came to the University of Washington in 1976 as the Director of Asian American Studies Program; later the UW formed the Department of American Ethnic Studies with African American, Asian American and Chicano Studies. He is a nationally recognized scholar of Asian American studies and Sociology -- especially in the areas of Japanese American internment and incarceration during World War II, Japanese American values and interpersonal relations, and Japanese American religiosity. He has published books and articles and invited to be a visiting professor at two Japanese universities (Ryukoku University, Kyoto, and Yamaguchi National University,Yamaguchi). He has presented lectures, given conference papers, and been the keynote speakers at other universities in Japan and the United States.
Professor Kashima inaugurated the (almost) yearly UW Day of Remembrance commemorating President F. D. Roosevelt's signing of Executive Order 9066 on February 19, 1942 authorizing the removal of almost all persons of Japanese ancestry from four West Coast states into American Concentration camps. More than fifteen programs thus far have been presented, the largest being a ceremony in 2008 titled "Long Journey Home" in which 449 Nisei UW students in 1942 were then forced to terminate their UW education, were bestowed honorary baccalaureate degrees by the UW Board of Regents and then UW President Emmert.
Professor Kashima was honored by the National Japanese American Citizens League with the 2008 Japanese American of the Biennium Award--Education and Humanities, in their ceremony in Salt Lake City and in 2009 by the University of Washington with the James D. Clowes Award for the Advancement of Learning Communities. The award is given to individuals who evince "Evidence of creating or sustaining learning communities among students that may include international programs of study; or encourage student-facilitated learning opportunities to open door for service and community-based projects that are integrated into their program of study."